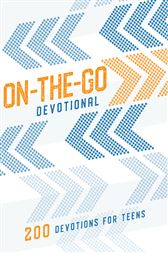 B & H Publishing Group's ON-THE-GO Devotional (200 Devotions for Teens)  2019 book for young people may be insubstantial, and as small as a salad plate; but, with timely topics, and brief, but concise, spiritual challenges, the book is a feast for the soul.
Author Leslie Hudson pairs familiar subjects– such as hope, humility, and heart–with matching scriptures that are followed with brief comments, bullet phrases, and possible scenarios and familiar situations. Finally, a "To-Go"  section ends each page. This devotional  certainly provides its reader with knowledge on how to live the Christian life for today and beyond.
Mrs. Patricia Ann Timbrook, PatSays, Children's Book Reviewer, January 14, 2020.